Profile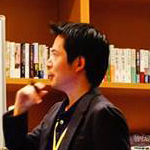 Takuo Yoneda 米田 拓男
Born and raised in Shibuya, Tokyo.
Finished Ph.D program without dissertation at Aoyama Gakuin University Graduate School.
渋谷区広尾生まれ、桜丘町育ち。
青山学院大学大学院 文学研究科 英米文学専攻 博士後期課程 満期退学。
Theses and Presentations
2019: "The Babysitting Co-op Revisited: How to Nudge People to Investing in Babies." PDF
– Co-wrote a paper and had a presentation in the international conference, ISASE 2019. ISASE 2019 Program
– Discussed the example of applying behavioural insights (behavioural economics theories) into application designs.
行動インサイト(行動経済学理論)のアプリケーション・デザインへの適用例について論文を執筆し、国際学会にて発表しました。
Activities
2016-2018: Organized English discussion community for The Economist readers at Academy Hills in Roppongi Hills.
六本木ヒルズの会員制ライブラリー、アカデミーヒルズにて、英『エコノミスト』紙の記事について英語でディスカッションする勉強会を主催。
shakeweb.co.uk Japanese translations of the articles of The Economist
Twitter 280-character summaries of the articles of The Economist
Certificates
EIKEN Grade 1 (英検1級)
TOEIC 930
Information Technology Passport Examination
Lifework
Reading books in English. GoodReads
– Writing a story in English.
Hobbies
Cooking, Design, Piano & Swimming
Links
GoodReads
YouTube / Instagram / Pinterest / Facebook
Shake the Spear! A personal web-site for Shakespeare studies.